We love to get in the motor home and take off for parts yet to be determined. On one occasion, we left Aurora northbound for the Colorado Wyoming border. The motor home was pointed south, however, so we just kept heading south until we ended up at Palo Duro Canyon in north-central Texas.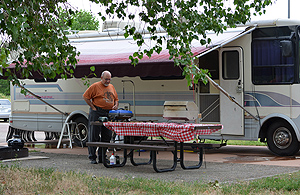 Jim retired from teaching in November 2010
Jim has retired from his teaching career as a school teacher in the Aurora Public School system for twenty-five years. Although he considered himself a classroom teacher of mathematics and science first and foremost, he has had a part in curriculum design, testing, and adoption. He has helped in the professional development of other teachers by working as a District Resource Teacher, Math Teacher Coach, Mathematics Teacher Leader, and Math Teacher Mentor under the Colorado Induction Program and has provided ongoing in-servicing and teacher coaching for other teachers for 19 years. He especially enjoys working with diverse students and has co-authored a book on working with at-risk kids, "Motivating Hard to Reach Students," ISBN +1 (557) 982 201
Renee retired in July of 2020
Renee has been employed in the health care business for over 35 years, first as a veterinary assistant in a small vet clinic and most recently as a front office manager in an oral imaging lab.
Her true vocation, however, has been running her own kennel, where she has bred, raised, and shown champion Standard Schnauzers for over 50 years. She has bred over 110 champions of record and finished many others, not of her own breeding.
In 2019 Renee received the American Kennel Club Breeder of The Year - All Working Breeds Award.
Renee has earned numerous worldwide and national titles with awards of record in America, Canada, and Europe. She was listed as "Breeder of the Year" in England for several consecutive years. Her dogs have received multiple Standard Schnauzer Club of America awards for "Dog of the Year," "Stud Dog of the Year" (4 different years), and "Brood Bitch of the Year" (2 different years). She has had several "Hall of Fame Producers" and "Leading Producers." In addition, her dogs have won numerous "Best of Breed," "Best of Winners," "Winner's Dog," "Winner's Bitch", and "Best Puppy in Sweepstakes" awards at National Specialty events. In 2012 Renee was awarded the American Kennel Club title "Breeder Of Merit- Platinum Level."
In addition to her very active involvement in show dogs, both for business and pleasure, Renee is an avid wildlife photographer. She also has received her Amateur Radio License KC0MDX.
Jim enjoys photography with traditional film and "old" cameras, web developing, reading (science fiction, fantasy, civil war history, World War II history), and camping.
His main love, however, is amateur radio. He builds most of his equipment himself, including transmitters, receivers, transceivers, and related station equipment.
Renee also enjoys traveling in "Annabelle" the wonder bus, sewing her own clothes, biking, and hiking. In recent years, Both Jim and Renee have developed a strong interest in Sante Fe Trail history and have spent many days traveling, photographing, and walking the trail. They especially enjoy visiting historical museums containing trail history and lore.